Entrevista en Maximum Rock n Roll (94)
P: ¿Porque el Lp conclusion venia con un signo de interrogacion?
Paco: Mucha gente estaba diciendo que Conflict podria estar terminado: "todo ha terminado" ¿esto es el final? Asi que lo llamamos Conclusion? pusimos un signo de interrogacion para preguntarse si era una conclusion o no.
P: Los tres primeros albums eran atacando el sistema, y desde Against all odds han estado tomando una forma diferete de politica, mas pensantes. ¿Hay un mensaje que tratan de dar, como pensar lo que haces?
Paco: Es solo las forma que evolucionamos. Se volvio un peligro que Conflict se volviera un gobierno dentro de un gobierno. Y lo tratare de decir de forma diferente, mas personal. "piensa sobre ti mismo". Nunca pensamos decirle a nadie que hacer pero esa fue la forma que la gente lo interpreto. Asi que hay mas puntos de vistas personales que solo tratar los hechos de una forma directa y general.
P:Conflict ha sido considerado, o es, como la banda mas importante anarcho punk junto con crass, ustedes se consideran anarquistas? Pueden dar su propia percepcion sobre ella?
Paul: La anarquia es la unica forma de sociedad humana la cual deja abierto el camino para lo mas bueno de la humanidad, porque sola destruye cada clase que trate de mantener a las masas oprimidas y en pobreza. Estamos en un mundo que siempre ha sido dividido entre los opresores y los oprimidos. La anarquía es un sueño que pude volverse realidad.
Colin: El anarquismo que yo se que siento es en un nivel mas personal, como una creencia propia. Creer que tu puedes alcanzar metas personales, etc. y haciendolo, tu creas lugares y cosas mejores. Es muy grande pensar confrontar gobiernos y ejercitos en un solo tiempo. Pero si hacemos lo que queramos y no lo que se nos dice y nos aferramos a lo que nosotros sabemos que esta bien y que esta mal y persuadimos a mas gente de adoptar esta actitud, entonces las cosas mejoraran. Sabemos que el gobierno continuara probando que estamos en lo correcto, y la opinion publica esta cambiando rapido y puede ser cuestion de tiempo que lo bueno sobrepese a lo malo.
Paco: No puedo entender porque la gente puede ser continuamente violenta todo el tiempo. Desde un punto de vista personal no puedo entender como tanta gente vive con la religion. La religion antes causaba muerte, mientras uno de los puntos principales de la religion es "no mataras". Esencialmente, no entiendo porque la gente pelea por algo de lo que no sabe nada, no tiene sentido. No creo que tu puedas alcanzar completa harmonia en el mundo porque la raza humana es muy egoista e interesada. Siempre hay alguien que quiere mas que otro, o gente que se pone celosa siendo igual que otra persona, asi que quieren ser mejores, un carro mas grande, una casa mas grande, mas dinero, mas de todo. Asi que trato de vivir mi vida en la mejor forma que puedo. Creo que no importa que tan grande pensemos que sea nuestro movimiento, nunca cambiaremos la mente de todos y especialmente la gente con poder, porque la gente con poder no dejara ese poder pacificamente al menos que ganemos poder con armas y los peleemos, lo cual parece ser tan malo como ellos.
Marshall: Encuentro frustante ver a tanta gente viviendo su vida como se les dice: me refiero, consiguete un trabajo, casate, ten hijos, espera tus vacaciones una vez al año, espera tu pension cuando tengas 60-65 ( si no te mueres primero antes). Los metodos empleados en la educacion a una joven edad tambien cargan la culpa por estas actitudes en la sociedad en general. Si simplemente voy a definir mi idea de anarquia seria asi: conocerte a ti mismo, tener tus propias opiniones personales y crecencias sin tener influenciado por presiones, respetar el planeta como la base de todo, tener una mente abierta.
Pregunta:Algunos planes para Conflict?
Paco: No tenemos planes establecidos, nunca los hemos tenido. Siempre hemos ido paso a paso. La unica vez que pensamos en parar fue el dia despues de Brixton. Cuando tuvimos que decir "Estamos haciendo un gobierno dentro de un gobierno? Nos volvimos tan politicos que tuvimos que poner freno e irnos mas despacio. Tuvimos una reunion el dia siguiente para decir "Bueno, entonces seguimos o terminamos?. Si hubieramos terminado entonces la gente hubiera asumido que si eramos un gobierno. En vez de tratar de explicarle a la gente las razones porque no queriamos ser un gobierno la cual es la principal razon por la que continuamos. Todavia hay problemas que necesitan resolverse. Y si podemos inspirar a la gente a discutir problemas a traves de lo que hacemos y decimos, entonces todo terminara bien.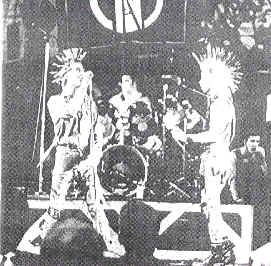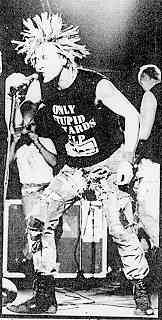 I've been getting sick recently of all this backstabbing and squabbling about bands and in particular CONFLICT. This years in things are Hardcore and Slagging Off Conflict. Yes folks, you can all join in on this one, just think of a rumour, something like "Colin eats Kentucky Fried Chicken" tell it to a few people and watch the shit really hit the band. Yeah, great. Fuck anything else like Nicaragua lets slag off Conflict. Well Conflict have done a million times more than most people reading this 'zine, I mean have YOU raised 3000 pounds for the ALF? This and countless other things have been done by them. But people will put bands on pedestals and when they find out that they are only human like everyone else they feel cheated. Imagine yourself in their shoes and I bet you can think of some things people could slag you off for, the odd EMI record, leather shoes, shopping at Safeways? Well anyway, some of your favourite rumours are answered in this interview, so read on....
So, what happened to all the money at Brixton? "We didn't get a penny. We got a 1000 pound bill for damages and we'd really like people to ring up the Academy and give them hassle as they ripped everyone off. They tried telling us there was only 2,200 people there but before that they'd told us that downstairs held 4,000 and then they'd open upstairs and as far as I was concerned downstairs looked pretty packed. London Greenpeace rang up today and said where's all our money and I had to say there wasn't any, just what you took on the stall. I don't think the Academy made a lot of money as these damages might have occurred. I've got a big list, a complete toilet, two toilet seats, a sink, a mirror, marble upstairs and graffiti removal was 150 pounds. At the end there was about 1000 pounds profit and they just happened to hit us for that.
Are they trying to get money off you now? No they won't be able to there was no contract or anything.
What was all that stuff in Sounds about Brixton Police? We went for a meeting with them last week because first of all they wanted to do us for incitement to riot charges because although we didn't know at the time they had uniformed officers on the balcony watching the gig who the Academy had let in so they saw everything. We've got the CRASS lawyers who look at lyrics to make sure we can't get done for sedition etc. and they reckon we'll get off it. There were a few hand outs going round at the gig inciting the trouble which we knew nothing about.

Did you video it in the end? Yeah, we used five different cameras from all over the the building so we might release that as well as the LP, the money from which is going to the people who were down to benefit from the gig. We've left all the trouble off the record because when you listen to it the speeches don't make much sense and it'll give people the wrong idea.
What happened with the security? They all got tooled up to beat the band up afterwards because during 'Mighty and Superior' they dragged some bloke up on stage and were bating the shit out of him so Paco (drummer) just stopped and had a go at them. They were really heavy, they had dogs at the back of the stage. They were really over the top, the Academy hired 75 extra security as the police tried to call the gig off on the Monday because a traffic warden found a hand out in the street which was one we done, the map. The police took it to the Academy and they wanted the gig off but by then the Academy had already spent money and we'd paid for the press adverts so they decided to go through with it but they did tell us it would be a strict security operation which is why we asked them if we could have our own security at the front of the stage and when we started playing people clambered over and the said take 'em out now or don't play. Despite this I think the whole thing was good.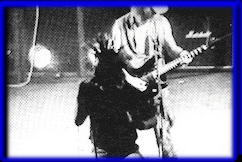 Do you think it achieved anything? I'm not sure if it actually achieved anything, it was good to pull so many people together. We all felt that but at the same time we felt it was too vast to cope with. Just the sheer size of the stage meant I couldn't control it whereas normally I can persuade people to get off. Steve got a shook up because in the second song he did someone got up and flattened him. A lot of people have said when we have done big gigs before that they're really good as they see people they haven't seen for ages or meet people they write to. It worked well in that way.
We did an interview with some bloke from the News of the World and what we're doing is winding everybody up and one idea we've had is to announce a tour of the country in all the trouble spots like Broadwater Farm estate etc. We found out through the National Council For Civil Liberties they can only ban us from playing for six months anyway. We were going to play under a different name like the "Ungovernable Force" but that would have been too obvious. Like, when we went down Brixton police Station they had all our records out on the table as we walked in.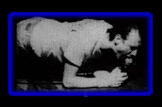 What about foreign gigs? We were offered a tour of France but can't see much point in that as feel it wouldn't achieve much, you know people just coming to see a punk gig and not being interested in what we're saying.
What about America again? We went out through a promoter called Goldenvoice and at the time it was the only way we could get there cos we'd had hundreds of of letters asking us to go and he was just like a money making bloke but since we exposed him a lot of people have written back saying please come back though not through Goldenvoice. Now there is eight of us altogether to get out there and back and we don't sit on that kind of money. People have offered us gigs out there but with the best will in the world and not wanting to put them down we don't think we can cover it. If we go it'll be on the spur of the moment though using Goldenvoice seems a contradiction of what we're all about.
What's happened to Mortarhate? We've slowed it down for a while. There's talk of us combining it with Corpus Christi, the Crass label and setting up a whole new distribution network because we're getting really pissed off with Rough Trade and the Cartel.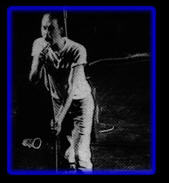 You know you've been banned from Our Price record shops? Yeah. I kind of knew, it's because of the price restrictions on our records. All we're doing is a City Indians project and a Shrapnel project and our stuff. There was an Antisect LP where all the music was recorded but no vocals have been put on and I don't think they're gonna finish it. We paid for that and we've lost 2000 pounds but I'm not going to put them down but we may be able to use the tapes for something else.
Is Steve staying with you? Well, we split up for about four days after the gig, we felt we'd been destroyed but in the end we ended up laughing about it as it was only about twenty people down the front. The whole thing really hurt.
What do you think about being called a pop star? Getting used to it! It used to hurt at first but then I thought if people are stupid enough to call me that...well! There was, like, people down the front saying how come your T shirts are on sale for a fiver and I said "how the fuck I am meant to know". We had a right argument with them after as they weren't meant to be four pounds and that was our agreement and they had just pocketed the money.
We got slagged off for kicking people off stage but you give those people an inch and you know the rest. As it was we had several banners nicked and they're real expensive, up to 200 pounds. There was 30,000 pounds damage to the Brixton area and 20,000 pounds police overtime bill and they want to pin that on someone. These "Turning Conflict Into Reality" leaflets, I think the points are justified but I don't agree with giving them out at our gigs and then leaving us to carry the can for them. A lost of the damage was done to things like Burger bars but there was senseless damage as well like Dr Barnado's window got through. The security peoples cars got done by accident which I was really upset about (ho,ho) when people got chased through the park. The number for the Academy is 274 1525 if anyone wants to give them hassle. We put a load of money into that gig, even Kevin and Oddy's dole money and we lost loads. Oddy's a really good bloke, I'm glad I met him. He's done a lot of sabbing and stuff but he's got to be more careful and not get pissed before he does it.
Finally, tell us about that Kentucky Fried Chicken incident....Well, I have bought food from there but it certainly ain't been chicken. On tour, when you're doing 30 daysand it's late at night and you are hungry, I ain't gonna eat chips and shit like that because for that amount of time it fucks you up so I have bought stuff like coleslaw. People think it's OK to have a salad kebab from a Donner Kebab and then slag me off for eating at a burger shop but I can't see any difference. The only thing I wouldn't do is, say, buy fruit from a butchers.
I just wish everyone would stop seeing us as having to be so perfect and get on with something themselves rather than looking to us to set an example because we want to help not lead for fucks sake....It's like the most popular question in zines now is not when did you form but what do you think of Conflict! Thanks anyway for giving the chance to express ourselves.
Well, I found Colin to be more than willing to this interview and at times found it difficult to shut him up! I only wish this interview was about more important subjects which I know they want to talk about but instead they have to spend all this time denying rumours.